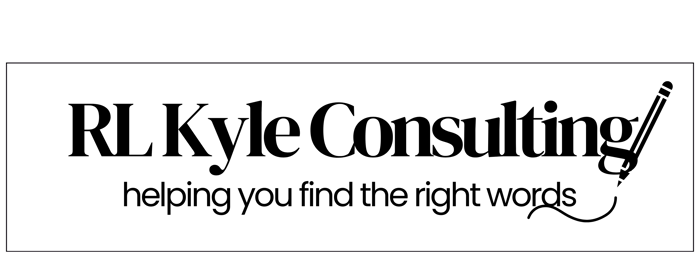 Wednesday Working Sessions
Developing ideas requires clarity
creative thinking + strategic planning = clarity
Do you need to work on your business but struggle to make the time and do the work?
Are you unsure where to begin?
Would having a community help with accountability AND ideas?
Join us most weeks for Wednesday Working Sessions, a free virtual working space hosted by RL Kyle Consulting.
What's getting in the way of you developing your ideas?
Can you teach me how to...
I'm often asked if I can teach, coach, or assist with a writing project— things like Capabilities Statements, résumés, company assets, and website copy.
Sure can!
Let's schedule a 15-minute Discovery Call to talk about your needs and timeline. The call is free. Your time isn't. Tap the button below to schedule your call.
If we're a good fit and you'd like to work on a project together, I'll send a proposal with project guidelines (Scope of Work), cost, and a deposit link to get you on our project calendar.
We're committed to building relationships by sharing our faces as we engage with each other. This builds trust in our community and helps keep everyone safe.
If this doesn't suit you, no problem, but we won't be the right fit.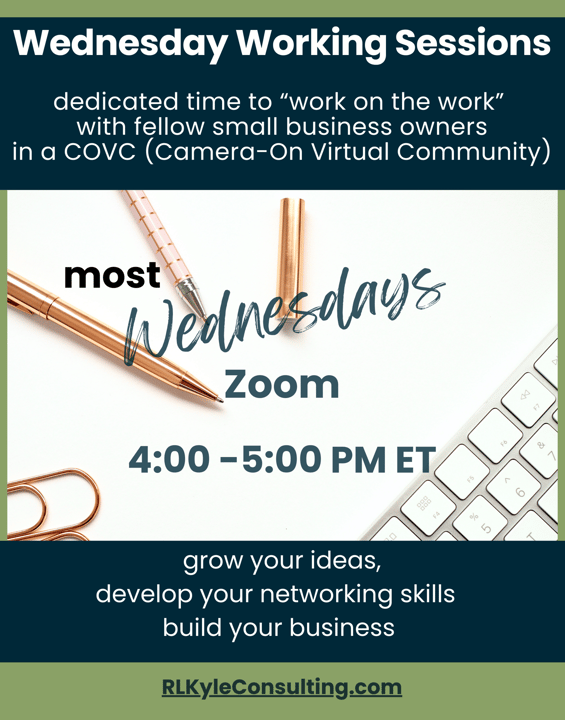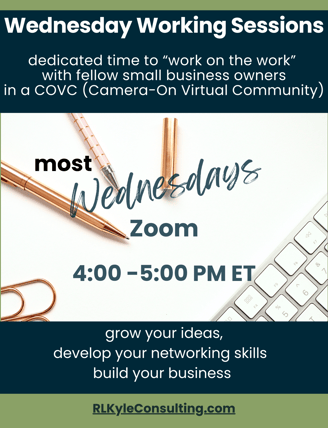 What began as a "Capabilities Statements group" has grown into a group working on various topics that fit our business development goals.
We show up to grow in a community— building relationships, developing networking skills, and creating opportunities.
Small business owners gather to work on the work
Time?

Fear?

Money?

Imposter Syndrome?
Just need an hour to brainstorm? Book a 60-minute consulting Zoom call
here
.
Make 2024 the year you make your business development your priority.